Welcome to Sirocco Chinese Cresteds
Sirocco
Sirocco was founded by Elin & Birgitta Gunnarsson in 2005, owners of Chinese Crested Dogs since 1999.
Since 2017 Elin is the sole owner of the Sirocco prefix.
The Chinese Crested Dog is not only a beautiful creature but also an amazing companion & friend!
Certified breeder by the Swedish Kennel Club & Chinese Crested Club Of Sweden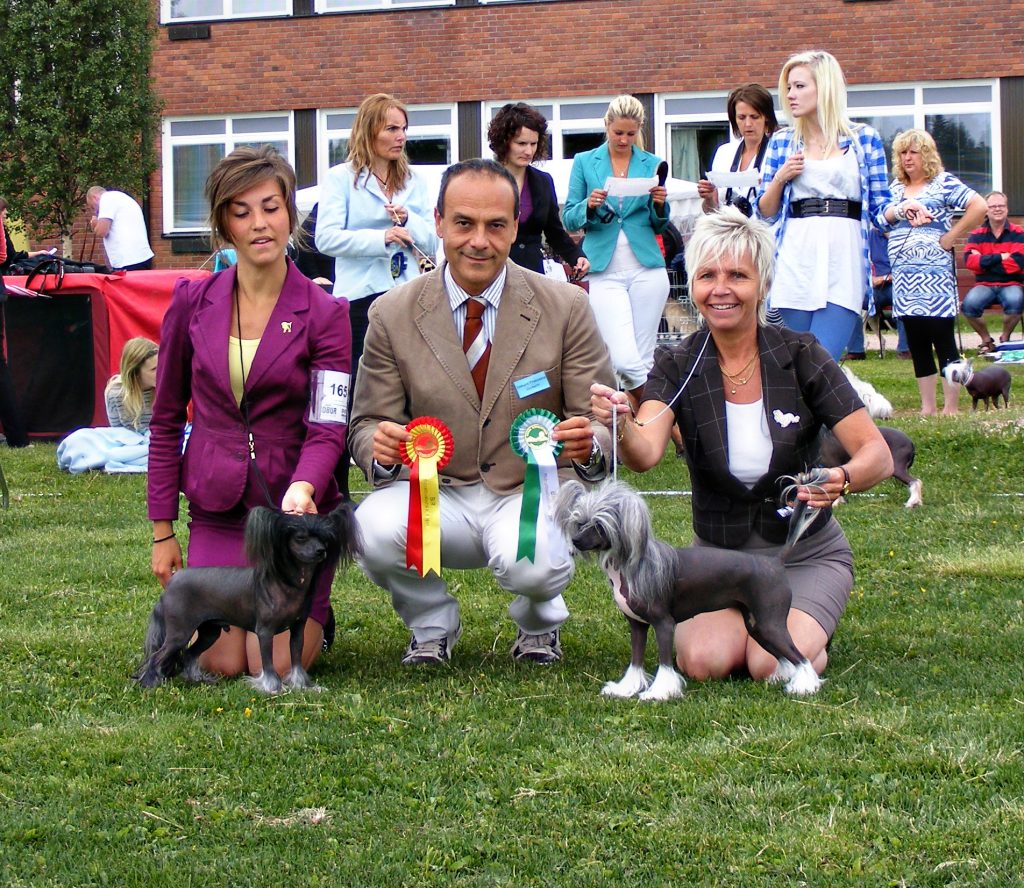 Elin with MultiCh Christmas CupW-10 Sirocco Sad Like Winter Leaves "Mozes"
Birgitta with MultiCh BIS Vanitonia Rumor Has It "Chibi"
The Sirocco vision
"Breed to succeed, quality before quantity"
I only breed when i believe that the combination of the parents will produce excellent examples of the breed. By doing so i will always keep one or more puppies out of that litter so i can improve and preserve the breed for each generation. I will not breed a bitch at all if i can't find a male that matches her well and i will only let my males be used for stud in combinations which i believe will produce excellent specimen. I do not breed very often, one litter per year on average, which makes it even more important that every singel litter is as good as it gets.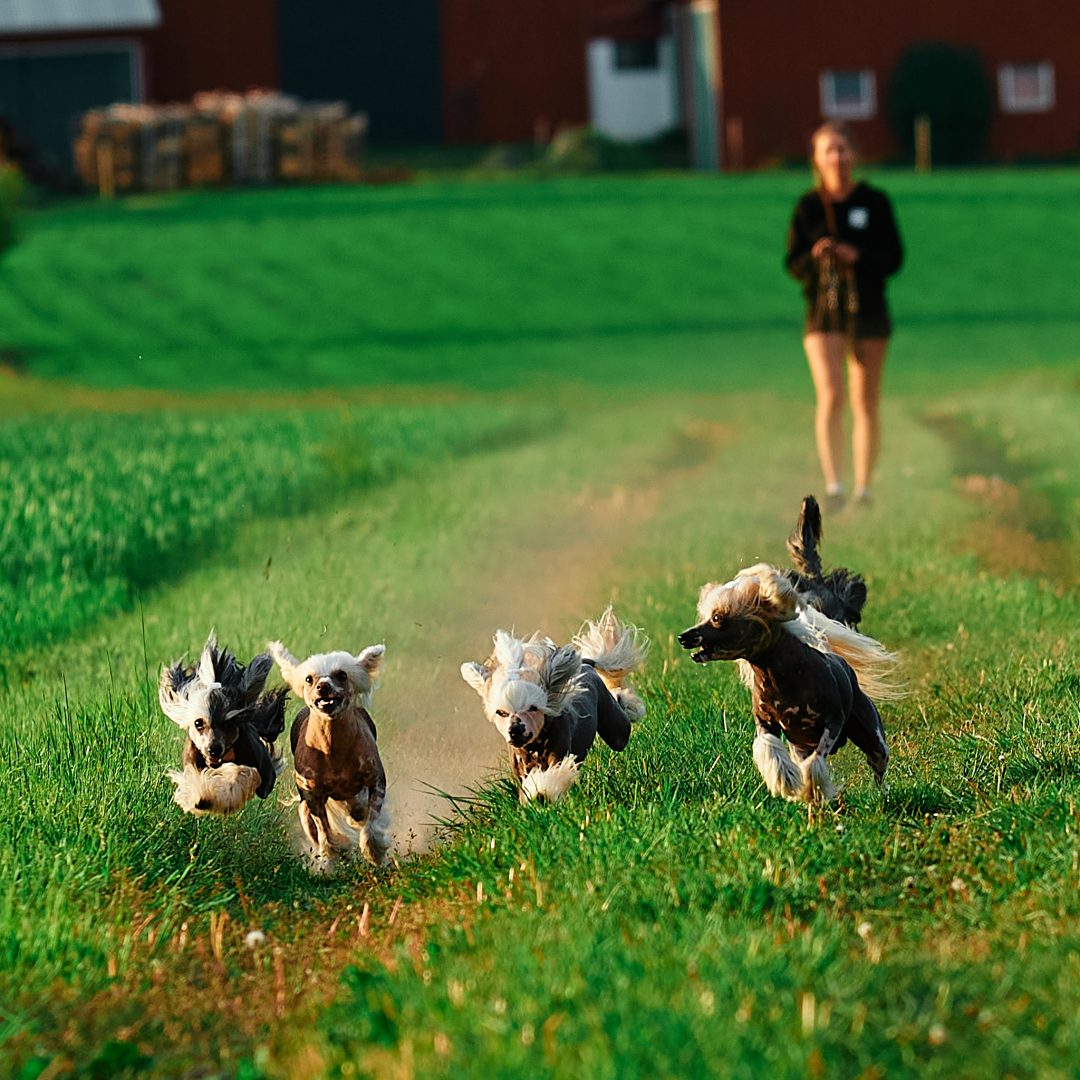 Health, temperament and construction are the basis of my breeding and all breed specific traits are carefully considered to breed as close to my interpretation of the standard as possible. The Chinese Crested Dog should be a small graceful dog that comes in two varieties, one with soft skin and hair on their head (crest), paws (socks) and tail (plume) and one with a long veil coat (Powder Puff). They should have a medium to long body that gives room for flowing movement with reach and drive. They are perfect companion dogs that should be happy and up for adventure and cuddles, on their own terms.
For me this breed is very much like a mix between a dog and a cat. When they want something they give it 110%, but if they do not care for it any more there's nothing you can do to persuade them. They are strong-willed and just like a cat they can act like a real diva. They are very smart and can easily manipulate their humans and even if the breed looks cute they are a big dog in a small body.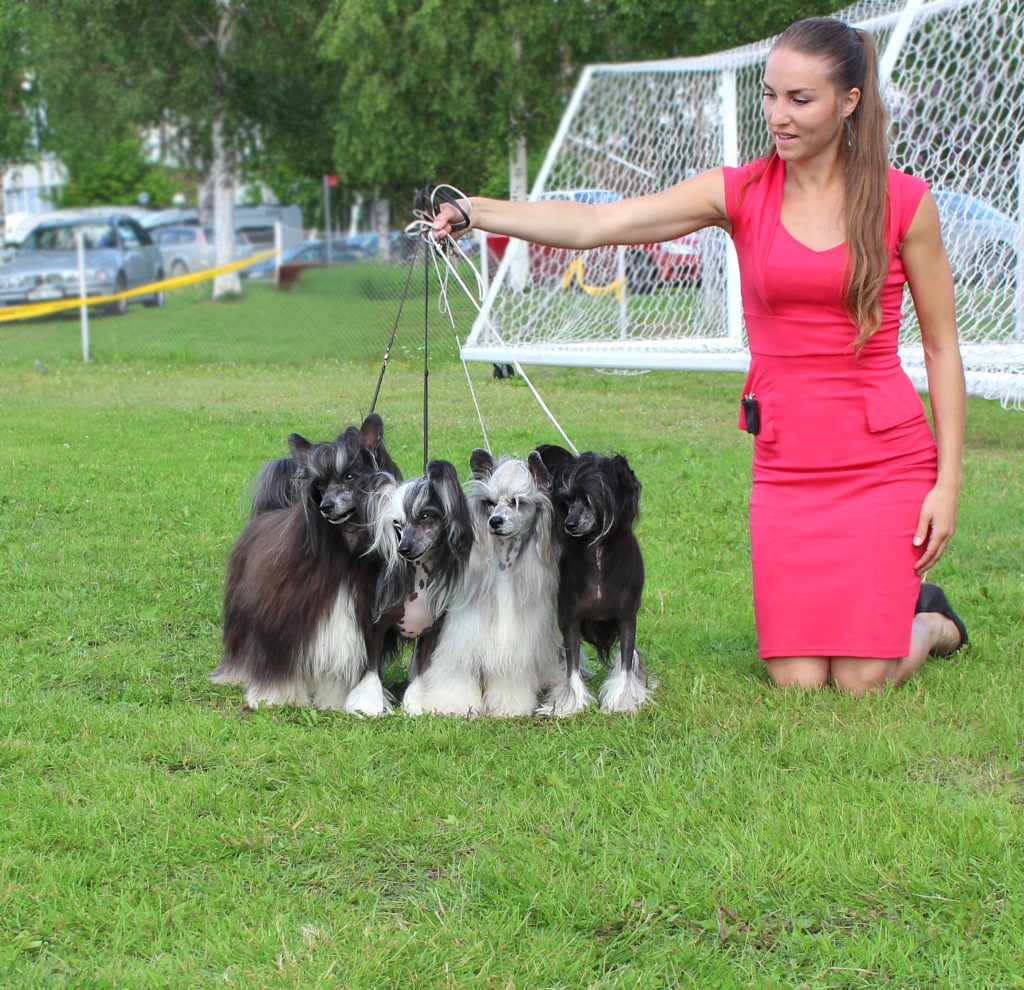 Elin with:
DK FI NO SE NORD Ch C.I.B BIS BISS Sirocco Greedy Hands Of Man "Rossi"
NORDW-14 DKW-18 DKW-14 BG DK FI GE NO SE NORD Ch C.I.B BISS Sirocco Jealousy Breeds Envy "Thea"
BG FI NO SE NORD C.I.B Sirocco Sweet But Wicked Dwelling "Ozzy"
NORDJW-15 DKJW-15 KBHJW-15 DK FI NO SE NORD C.I.B Sirocco Omen Over Northumbria "Aska"
The dogs live as family members in my home and are activated by free long walks in nature, bicycling/inlines, tricks & other activities they find fun.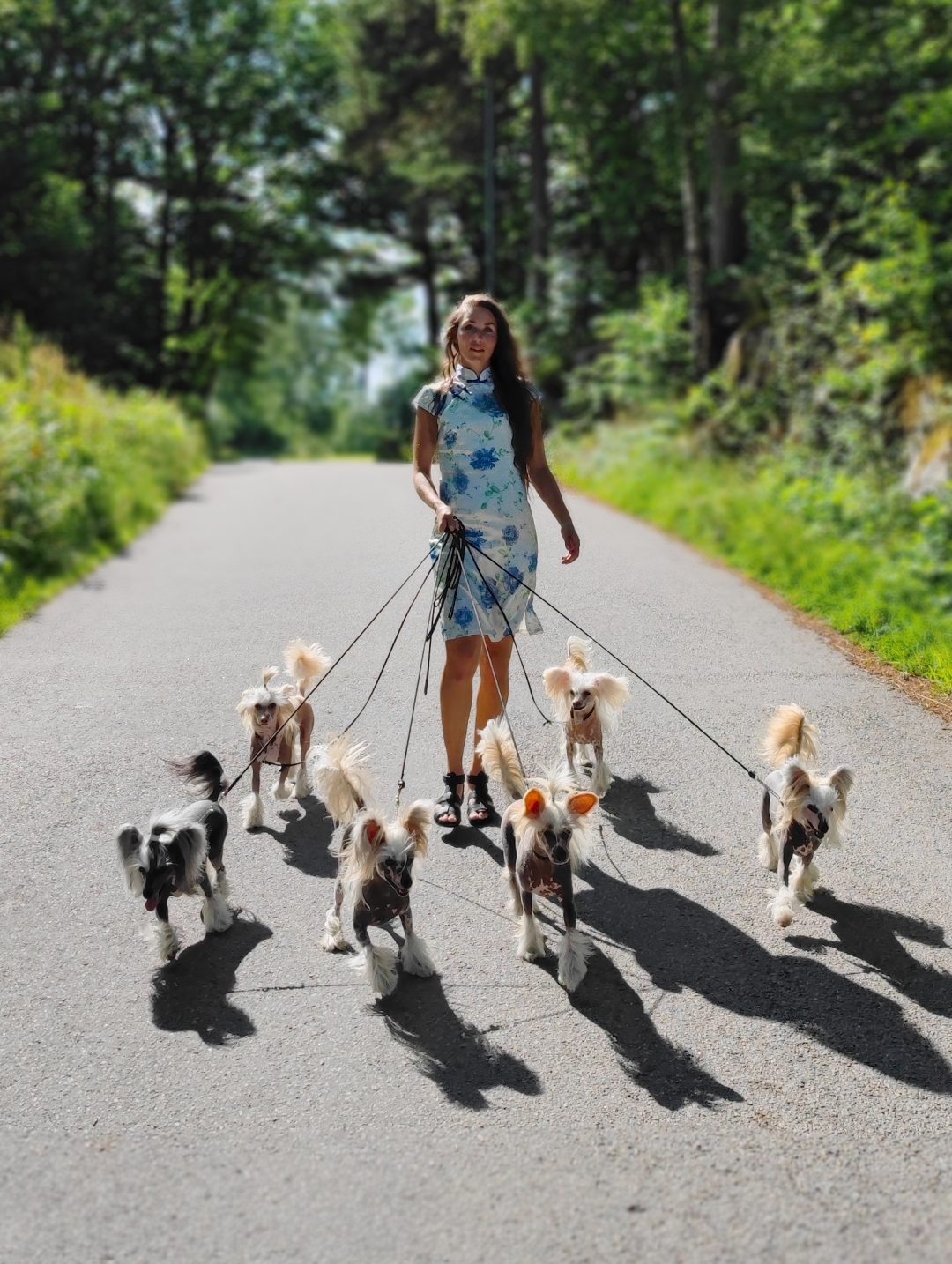 Making breed history:
First Powder Puff ever to win the Group at an all breed SKK show, (also placed as BIS 4)
First Powder Puff ever to win Best In Show at an SDHK show (Swedish Toy Dog Association)
Breed record holder of most CACs, both male (20) and bitch (18) (also father and daughter)
Sweden's #1 Chinese Crested Dog
Top Winning 2022, 2021/2020 and 2017
Powder Puff 2009 and 2007
Breeder 2021/2020, 2019 & 2017
Junior 2019 and 2017
Veteran 2021/2020
Brood Bitch 2022, 2019, 2017, 2016, 2015 and 2014
Male 2022, 2021/2020, 2019 and 2017
Bitch 2021/2020 and 2017
Obedience 2018
#38 All Breeds Swedish Kennel Club 2022
Other honours:
Japan's #1 CCD 2013 and 2012
Sweden's #15 Top Winning Breeders Group All Breeds SKK 2022
Sweden's #16 Top Winning Breeders Group All Breeds SKK 2019
Sweden's #25 Top Winning Breeders Group All Breeds SKK 2016
Rookie of the Year at Nordmalings Brukshundklubb 2005
Multiple National BISS (Swe) Breeders Group, Progeny Group, Puppy, Junior and Intermediate
Winner of all 4 National BISS (Swe) Special classes Best: Coat, Skin, Movement x2 & Head
Highest merits:
Junior World Winner, BOS & Junior Group 2nd, Geneva 2023
European Winner 2023 & BOB, Herning 2023
6 times National Best in Specialty Show (Swe) with 5 individuals, 4 of them home-bred
7 times Reserve National Best In Specialty Show (Swe) with 5 individuals, 4 of them home-bred
Best In Show 2 & Group Winner at Skara Nordic 2023
Best In Show 2 & Group Winner at Malmö IDS 2023
Best In Show 2 & Group Winner at Västerås NDS 2022
Best In Show at SDHK three times and multiple BIS placements
Multiple Group Wins and placements in different countries
Champions in Sweden, Finland, Norway, Denmark, Japan, Russia, USA, Poland, Latvia, Lithuania, Estonia, Bulgaria, Georgia, Turkey and Armenia
Multiple Winner Titles and Junior Winner Titles


Best Breeders Group with:
DK FI SE Nord Ch CCD Brood Bitch #1 2022
Sirocco Endless Locks Of Eventide "Viska"
NORDW-22 NW-21 DKW-19 NORDJW-18 MultiCh, Sweden's #1 CCD 2021/2020, Breed Record holder with 18 Swe bitch CAC
Sirocco Go Big Or Go Home "Uma"
NORDJW-21 DKJW-21 FINJW-21 NJW-21 HELJW-21 DK FI NO SE DKJ Ch, R-BISS Summer 2022
Sirocco No Lemon No Melon "Helga"
NORDW-22 DKW-21 NW-21 DKW-19 NW-19 NW-18 KBHW-18 MultiCh BIS BISS- 2022 & 2020 Sweden's #1 CCD 2022 & 2017, Breed Record holder with 20 Swedish CAC
Sirocco Lunatic Toc Tamarine "Morgan"